Destination Guide: Portsmouth, NH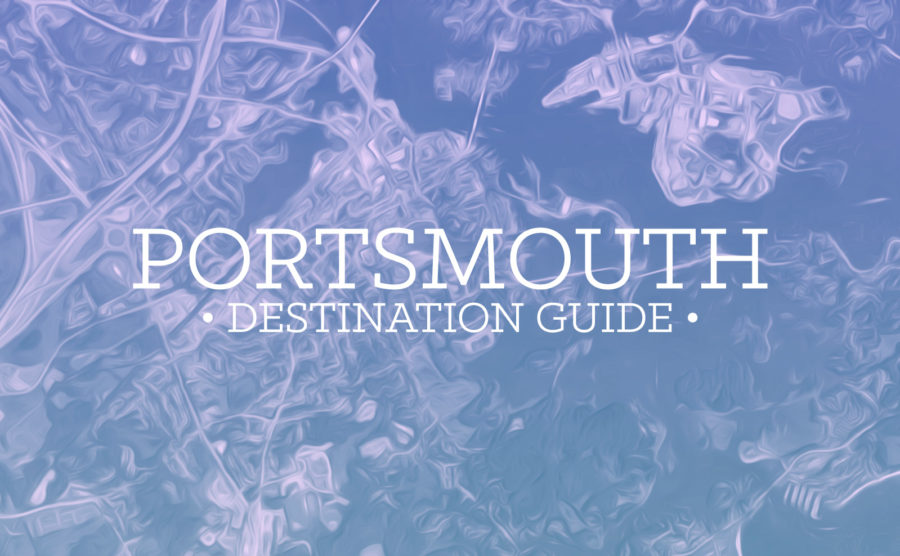 There are more than a few benefits to being a creative agency in the bustling harborside city of Portsmouth, NH. We may spend our working hours designing websites, publishing content marketing, shooting social and product photos, and drafting digital marketing strategy from our Bow Street headquarters, but when we're not geeking out over algorithm updates, our team members can be found exploring the nooks and crannies of our picturesque city. While we may be guilty of keeping a few select locals-only spots to ourselves, we're more about sharing than hoarding, so without further ado, here's where we tell our friends and visiting family members (at least, the ones we like!) to go when they're in town.
Sights
Fort Stark
A former military installation that overlooks the Piscataqua River, the Atlantic ocean, and Little Harbor, Fort Stark is a hidden gem. There's a small beach, an unmarked walking path, and plenty to explore. Take a walk out on the jetty with your bae, or lay down a blanket or towel on the sand for a perfect summer afternoon away from the crowds.
Great Island Commons
Just a skip away from Fort Stark, Great Island Commons in New Castle is a family-friendly spot with great ocean and harbor views, vast manicured lawns for picnics, a multi-age playground, and a sweet little beach that's nicely protected for small swimmers. Get there early to claim a spot or even one of the picnic tables with nearby charcoal grills!
Ordiorne Point State Park
Further down the coast in Rye is Odiorne Point, where you can spend the better part of a day exploring the tide pools, biking/walking trails, and, of course, the Seacoast Science Center, a perennial hit with the kiddos and adults alike, thanks to their sea critter-filled touch tank.
Sagamore Creek Bridge
Need a little adrenaline rush? Nothing a quick jump off the Sagamore Bridge won't fix. Enough said.
Sounds
Prescott Park Arts Festival
If you're as into good music as we are, Prescott Park Arts Festival needs to be on your Portsmouth must-see list. Each summer, PPAF brings a blockbuster roster of musicians to Portsmouth's Prescott Park for open air concerts overlooking the Piscataqua River. Join the crowds who pack the park for these free (but donations are welcome!) shows that regularly end with crowds dancing jubilantly in front of the stage. PRO TIP: head over early and lay down a blanket to save a patch of grass after 3pm.
3S Artspace
We get that "alternative multidisciplinary arts organization" might be confusing, so let us clear it up: rad stuff goes on at 3S Artspace. Progressive art, music, food, fun, community, shenanigans – all of it. Want to see Tank and the Bangas, winners of NPR's Tiny Desk Contest while you're in Portsmouth this summer? 3s is the only place you'll be able to catch the raucous and jubilant show.
Sips
Book & Bar
Small plates, espressos and lattes, teas, a curated list of brews on tap, and books from floor to ceiling make Book & Bar our very favorite non-digital hotspot. Grab a spot on one of the comfy couches and settle in for a spirited discussion over sips and bites.
White Heron
We love it when a local makes good and White Heron is one of those cases. Owner Jonathan Blakeslee began brewing teas (best we've ever had!) and then moved on to opening the bright and airy cafe that sits in Portsmouth's up and coming West End. Now it's our fave spot for a (gluten-free, woot!) scone or a breakfast burrito to power us through a marathon day of digital marketing.
Liar's Bench
The newest addition to our list, Liar's Bench is another hotspot located in Portsmouth's West End, just off Islington. Dreamed up over beers and cross country conversation and then built in an old plumbing supply warehouse, Liar's Bench has some of the finest small batch brews in town – and the food's pretty darn tasty, too.
Great Rhythm Brewing
Tucked unassumingly behind Ricci Lumber off of Bartlett Street in the West End of Portsmouth is a sleek and modern brewery/taproom overlooking North Mill Pond. Featuring the industrial vibe of visible brewhouse equipment, large communal tables and boisterous music, Great Rhythm Brewing is one of our favorite spots. Love a good IPA? Order one of their constantly changing drafts or order a flight – you're sure to be delighted either way, thanks to their hop-forward beers. (There's an occasional stout, if you need variety.). Love their beer too much to part ways with it? Take home a selection in their 16 oz. cans so you're never without.
Earth Eagle Brewing
Portsmouth has a thing for well-concealed brewing companies, but Earth Eagle might take the cake. Hidden behind a homebrew supply store, a yoga studio, and a tattoo parlor on High Street, a tiny street that's more of an alley, Earth Eagle has an eclectic, hippy-punk vibe about it, complete with skulls on the walls beneath Tibetan prayer flags. Order one of their "gruit ales" – beers brewed with herbs or foraged ingredients in place of hops – and drink in the cozy taproom or their outdoor biergarten, complete with cornhole.
Food
Moxy
With two-time James Beard best chef semifinalist Matt Louis at the helm in this modern American tapas restaurant, you know the food is going to be exceptionally good. Moxy is one of the acclaimed restaurants bringing Portsmouth's food scene to national attention, and for good reason. Taking inspiration from traditional American, and specifically New England, cuisine and reinventing it using local ingredients (as well as a hefty dose of culinary talent), entirely new iterations of classic favorites are presented on small plates for the delight of diners.
(Side note: don't miss Chef Matt Louis' sister restaurant, The Franklin Oyster House, for fresh oysters, house-made charcuterie, and desserts that are imaginative and delicious.)
Fezziwig's Food & Fountain
If you find yourself stuck in traffic waiting while the Memorial Bridge is up, do yourself a favor and take it as a sign that the universe wants you to pull over for a pit stop at Fezziwig's Food & Fountain. One of the latest offerings from the delightfully quirky Pickwick's Mercantile, which is well on its way to cornering the market in Portsmouth's Strawbery Banke, Fezziwig's offers a full-service espresso bar and breakfast, lunch, and dinner menus, but it's the menu of elaborate sundaes and milkshakes that's the real draw on a hot summer day.
Colby's
If you came to Portsmouth and didn't stop for a legendary brunch at Colby's on Daniel Street, were you even here? Just go – it's that good, and well worth the wait, no matter how long the line on a Sunday morning.
STREET
Tucked in an unassuming plaza in Portsmouth's West End, you'll find STREET, a Catchfire Creative favorite. Colorfully decorated with large scale, local modern art, this eclectic restaurant has taken street food from around the world and made it into a cross between fast food and gourmet cuisine to produce a rebellious, no-holds-barred flavor explosion.. No one in our office can resist the the curry fries, bibimbap, or the out-of-this-world cobb salad you'll find at STREET, but truth be told, we'd take one of everything off STREET's menu and be darn happy about it.
Ceres Street Bakery
If you're on the hunt for fast, casual food, but still want to eat fresh, healthy(ish), local fare, go no further than Ceres Street Bakery. Another one of Portsmouth's culinary institutions, Ceres is typically packed at lunch, but the sandwiches on freshly baked Anadama bread will make up for any delay. Don't skip out on buying something sweet – we bet that mint brownie doesn't even make it to your car with you and we won't blame you one bit.
Fun
Portsmouth Farmer's Market
A veritable see and be seen in the Seacoast, the Portsmouth Farmers' Market is where those in the know head to pick up farm fresh produce, meats, milk, cheese, jams, baked goods, artisan goods, art, honey, maple syrup, and everything in between. There's almost always live music and, because the community turns out in force, a ton of conversation and catching up.
The Gundalow
While a flat-bottomed gundalow sailing up or down the mighty Pistacaqua River might look odd to most people used to your average sailboat, The Gundalow Company's PISCATAQUA is actually a replica of the historic vessels that were the workhorses of the Seacoasts waterways starting in the mid 1600s. Hop aboard for a public sail or a private charter to learn how they changed commerce in the area – or just enjoy the sail. (Packing a picnic dinner is not only allowed, but encouraged!)
Portsmouth Bike Share
This brand-new-to-Portsmouth program allows you to snag one of the spiffy bikes at bike stands around the city and explore to your heart's content. Day or 3-day memberships from Portsmouth Bike Share are available.
Discover Portsmouth
Located in the old public library building, Discover Portsmouth offers historic home tours, guided walking tours, museum exhibits, and a museum shop filled with all kinds of historic prints and books, as well as the work by Portsmouth artists and artisans.
Provisions
Gus & Ruby Letterpress
The consensus in the Catchfire office is that a visit to Gus & Ruby is one of the best ways to spend a lunch break or post-work retail therapy session. Whether you love gorgeous paper goods, or home accessories, or fine pantry goods, or a calligraphy kit that will finally get you up to speed on how to hand letter, Gus & Ruby has you more than covered. If nothing else, take a stroll by to take in their exceptionally creative window displays.
Stock + Spice
Located next to Black Trumpet, another one of Portsmouth's outstanding restaurants, Stock + Spice is the labor-of-love trading company run by Chef Evan Mallett and wife Denise Mallett. From nearly impossible to find culinary ingredients to custom Black Trumpet spice blends, house-made stocks, bone broth, pickles, mustards, and sauces, all of which are made in-house in small batches, you'll find only the finest at this cozy store on Ceres Street.
Coming Soon
Country Comes to Town
Will Portsmouth soon have its first country bar? If Al Fleury, owner of several blue-collar establishments in Hampton Beach, has his way, it's all but a done deal. What was formerly Radici restaurant and the Elvis Room before that, will soon be re-christened The Goat, featuring a wall of HD televisions, live country music, and the largest selection of whiskeys in town. While we can't see anything beyond the sign on the butcher paper covered windows, we're eager to see if The Goat will fill the gap left by the loss of State Street Saloon this spring.
A "Wilder" Replacement for the Coat of Arms
Restaurateurs in Portsmouth can be notoriously tight-lipped about plans so as not to tip of competitors, but we know that there are plans for a new restaurant bar (possibly called Wilder) to open in the former home of the Coat of Arms, a local institution that closed in late May after 22 years of operation. Julian Armstrong, owner of two popular restaurants, Anju Noodle Bar and The Wallingford Dram in Kittery, proposed renovations to the city back in April. While we don't know much beyond that, we can't lie – if this new iteration is half as good as Armstrong's other offerings, Portsmouth is in luck.
Songs Instead of Sushi?
When Sake restaurant on Congress Street closed last year, it left a large gap in an otherwise bustling block of downtown Portsmouth. Left empty for months, it became easy to overlook the empty booths and darkened windows. But will we soon see the high ceilinged space filled with people and hear musical notes wafting out of the doors? Rumor has it a music venue is in the works. With the temporary loss of the Press Room this summer, we're hoping the rumors are true and that this new venue opens soon.
Now that we've spilled all of our secrets on what to do in Portsmouth, what's left? Well, that's up to you – if your brand is in need of some spot-on strategy to point you in the right direction or a dash of excellent taste or an ability to spot a winner when we see it, Catchfire Creative has all of that in spades and happens to be one of Portsmouth's finest creative agencies. Shoot us an email and see that we know digital marketing as well as we know our tiny bit huge city.