New Website Launch – Zack Richard
Company:
Zack Richard is an American film director and cinematographer. His body of work consists of cinematography for feature films, music videos, commercials and directing music videos. Zack is a consummate professional – calm, intuitive, efficient and responsible. Zack has received numerous awards and commendations throughout his career and is renowned for his creativity and ability to meet and exceed the expectations of his clients. Zack is an experienced RED EPIC cinematographer and owner of an RED EPIC-M camera package.
The Opportunity:
Zack Richard's work in both photography and video production truly showed his talents, but his outdated website did little to give his work the real justice it deserved. His hard work and passion over the years needed a site that would showcase his work in a clean and effective way. Zack's website focus needed to be his work in video production and photography, an easy to use interface that would encourage people to view his collection of work, not deter them from it.
Our Objectives:
Develop an identifiable mark for the Zack Richard name.
Create an effective design that showcased Zack's work, not distracted from it.
Bring the quality of his web presence up to the quality of his work.
Programs:
Logo Development
Website redesign and development
Search Engine Optimization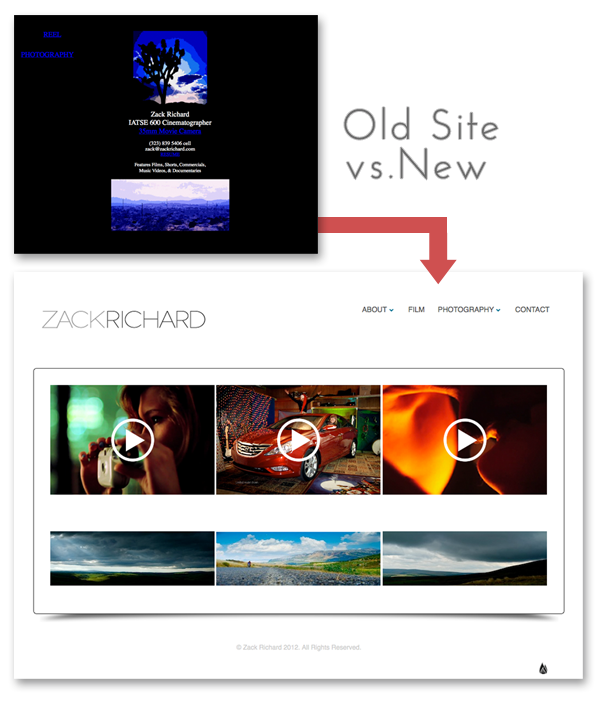 To view some of Zack's work or get in touch with him for your video or photography needs, visit his website at: www.zackrichard.com