What We Learned: My Creative Agency Internship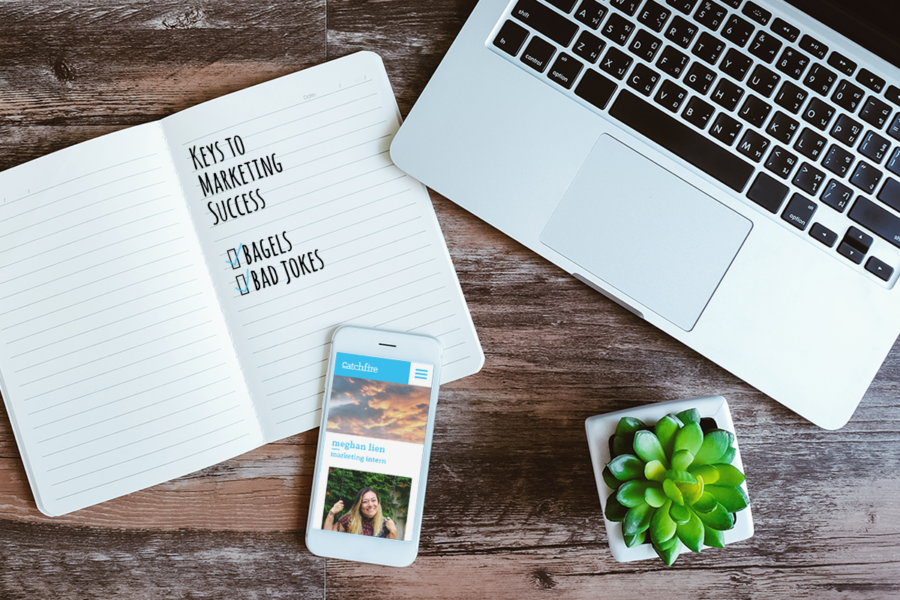 Curious about what goes on inside one of the top digital marketing agencies in New England? I sure was. In my search for the perfect marketing internship, Catchfire Creative, a small but fierce agency in Portsmouth, New Hampshire, popped up on my radar. With thoughtful campaigns for brands with health-forward and philanthropic values, Catchfire felt like the good guys in a sea of cutthroat agencies. Read on to see what made my internship far from conventional and what I learned when I pulled back the curtain at Catchfire.
NOT YOUR AVERAGE INTERN
Completing an internship is a prerequisite for any college graduate. The only catch is that my college internship was…FIVE YEARS AGO. My internship as a 22-year-old provided the work and life experience that piloted me to a career in hospitality. Back then, I felt motivated and prepared for the corporate structure hotels and restaurants provided.
Fast forward to January 2017: I was a 27-year-old feeling wholly uninspired by the career I built around hotel and restaurant operations. When you're trying to move up the corporate ladder, it's easy to lose grasp on who you are and what makes you tick. I was lacking a creative outlet and there was no room to show my personality and expand on my growing interests.
THE SWITCH TO DIGITAL MARKETING
A shakeup was necessary – and my knack for social media seemed to be a logical jumping off point. Being a typical millennial, I rarely have a device out of arm's reach. I scroll Instagram and Facebook feeds to the point of serious neck and index finger cramps. I had lobbied to take over social media accounts for the restaurants where I worked, and had produced solid results. Through my amateur photography, I started making meaningful business connections with prospective consumers. I didn't want to lose that creative outlet so I started researching ways to transition to a career in marketing.
To make a legitimate switch from hospitality to digital marketing, an internship was my best option. This time around, it wasn't about needing someone to direct my focus and educate me on different projects. It was an opportunity to showcase my skills and creativity from the experience I already had.
THE HUNT FOR THE RIGHT CREATIVE AGENCY
Months of research and upwards of 30 unanswered emails to different agencies provided few results. Out of pure chance, I found an internship opportunity at Catchfire Creative. Their client list boasted recognizable organic food brands, New England family­-run businesses, top of the line pet brands, and so much more.
Catchfire Creative was, for me, that unicorn of a guy you knew you had no business asking out but for some unexplainable reason, he agreed to dinner. Four emails and one meeting later, I had the opportunity to intern for the Catchfire team for the summer.
CATCHFIRE INTERN ≠ ADMIN
Interning at Catchfire Creative exceeded my expectations. I hoped that my time at Catchfire would be beneficial for both of us. I wanted to help lighten the team's workload while getting an inside look at the heart of agency operations. From what I researched, digital marketing agencies become an extension of the companies they work with. I love how that transparency that makes every day and every interaction different.
In my first week at the office, I was accountable for research projects and assisting with monitoring social accounts. Gone are the days of juggling office coffee orders and picking up the boss' dry cleaning. The immediate and mutual trust felt organic and normal. The shoe fit and didn't even leave a blister.
QUALITY WORK, QUALITY PEOPLE
This carefully crafted team was warm, friendly – and intimidatingly talented. I felt smarter listening to their conversations. Not only did they talk, but they listened and helped me understand the goals I wanted to achieve. I had access to online courses that I could take in my spare time and the team invited me to sit in on client meetings. I saw how new ideas were presented, how compromises were reached, and how approved concepts were then executed.
The open concept office space encouraged everyone to bounce ideas off of each other and break out into informal meetings. It was refreshing to see that not every single meeting called for an outlook invite. In digital marketing, you never know when a new platform will pop up or an algorithm will change. Catchfire combats all the uncertainties by keeping a finger on the market at all times. If you see something, you share it. As an intern, the ability to share news articles and updates with the team was empowering. Sharing my thoughts and opinions with this group of marketing titans wasn't daunting, it was fun!
WHERE DO I GO FROM HERE?
Going into this experience with no expectations worked well for me. Balancing a full time job and internship was not a walk in the park but a career opportunity was my priority. Catchfire Creative was a new, albeit scary, beginning in the digital marketing industry.
My goal after my internship ended was to use my Catchfire internship as a testament to my ability to grow in inbound marketing. Focusing on building my portfolio allowed me to dial in what I was learning and applying that to a career. Worst case scenario, I would leave this Bow Street office with significant experience. Best case scenario, I would get to call Catchfire home.
As it turns out, the team here at Catchfire saw in me what I saw in them three months ago. I'm thrilled to be joining the team as their inbound marketing coordinator. I look forward to watching this company continue its reign as a top digital marketing agency in our gorgeous, waterfront corner of the map.
Are you inspired to make a change of your own? If, like me, you think Catchfire Creative is that unicorn of a guy/gal you never thought you'd find, it's time to summon up your courage and shoot us an email. From digital marketing to website development to graphic design and beyond – Catchfire is ready to be the catalyst for your brand's transformation.