Catchfire's "New & Improved" Agency Identity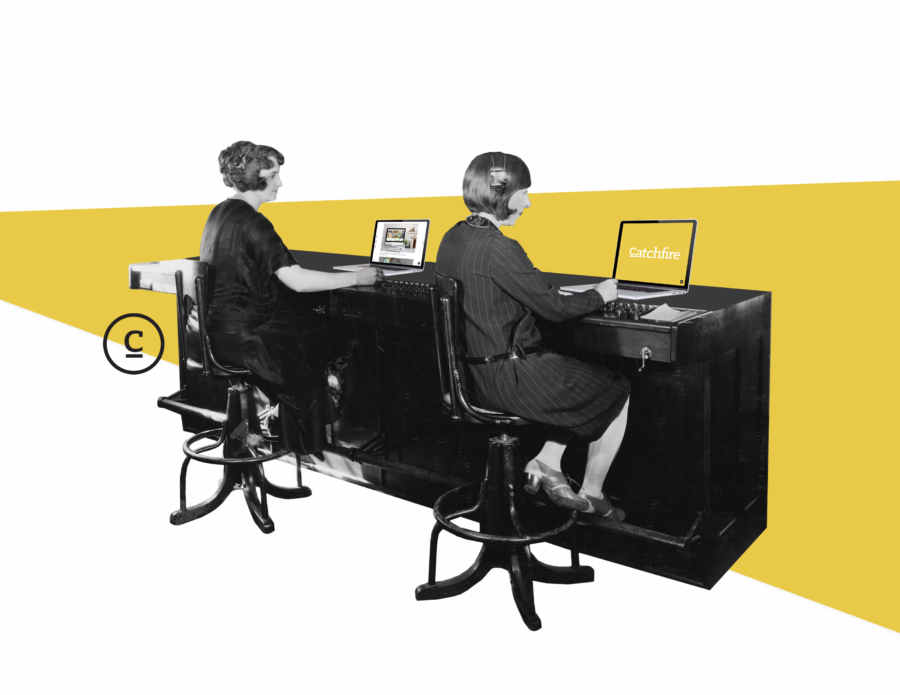 Sincere.
Isn't it refreshing when you encounter someone completely free of pretense or hypocrisy? In a culture rife with artifice and snark, sincerity is singular and striking. Here at Catchfire, sincerity is a way of life, but it's also a market position for us as an agency. It represents the dynamic we strive to create with – and for – our clients. Brands that sincerely communicate their personality and purpose stand out on crowded shelves and the e-commerce landscape.
As an agency, we focus on transforming consumer brands into household names through purposeful design, empathetic UX, and digital marketing. This is nothing new – Catchfire's dance card has been filled with lifestyle and CPG brands for a few years now. But as we entered 2018, we began to feel like it was time to plant a stake in the ground and claim a small patch of the vast wilderness that is representing CPG and lifestyle brands.
With the unveiling of our newly redesigned site, we're making our agency positioning crystal clear. In stating who we are, what we do, and how we do it, we're living into our newly minted core values.
CATCHFIRE'S AGENCY CORE VALUES
One peek at our new home page and you'll see how seriously we take sincerity as a core value. But we dug deep to examine what else we prize in ourselves as an agency, as individuals, and as a team. What emerged is a striking contrast to what most folks understand to be agency culture, but when it comes right down to it, these are the values that best embody the Catchfire spirit.
Sincerity – first, foremost, and don't you ever forget it.
Bold, brilliant, impossible ideas are the kind we like best.
We respect ourselves, our colleagues, our clients, our process, and our work.
Ego isn't our thing. Humility is.
We think kindness is cool. We don't do mean.
Small and mighty is what we know best.
HOW AN AGENCY OVERHAULS ITS OWN WEBSITE
Once our brand architecture and positioning aligned with our vision of Catchfire's future, it was time to dress ourselves in a new set of digital clothes. For that, we relied on our team of data nerds, artists, anthropologists, futurists, superheroes, and tellers of bad jokes to help shape the new website. (That last one – you know who you are.)
color theory
The same way a signature scent tells a lot about the wearer, a signature color conveys volumes about a brand. Using yellow as our new brand color started as a tiny flicker of an idea, but once the seed was planted, it pretty quickly took over the whole garden. You know the feeling when you try on an outfit you're expecting to hate….but you end up loving it more than life itself? Yeah, like that, only the dressing room was InDesign.
identity
So, what gives with the Catchfire underscore? Our brand identity is about elevation, a literal raising of our "C". The underscore is a visual representation of the way we elevate our client relationships, our projects, and your brand's products. Our clients come to us in search of an elevated brand position through brand strategy and inspired consumer engagement. The Catchfire underscore is our daily reminder of our highest goal as an agency.
web design
Our standard for our clients is simple: only the best. Were we treating ourselves and our website with the same quest for creative integrity and meticulous attention to detail? In a word, no. Our own site was long overdue for the 5-star reinvention treatment we lavish on our clients. We'll admit it – carving out time to work on your own brand can feel impossible, but if there's a time in the year where the decks can be cleared for a little creative self-contemplation, January is it.
After an intensive sprint, we emerged (slightly winded) with a user experience designed to place the focus on our work while embracing our agency's personality through playful, thoughtful nuances. Our intent was for the new site to be as warm, approachable and modern as we are ourselves.
We think it turned out to be a pretty spot on expression of the quintessential spirit that drives Catchfire Creative – we hope you enjoy.