One Client, Two Distinct Websites: A Study in Designing for B2C vs. B2B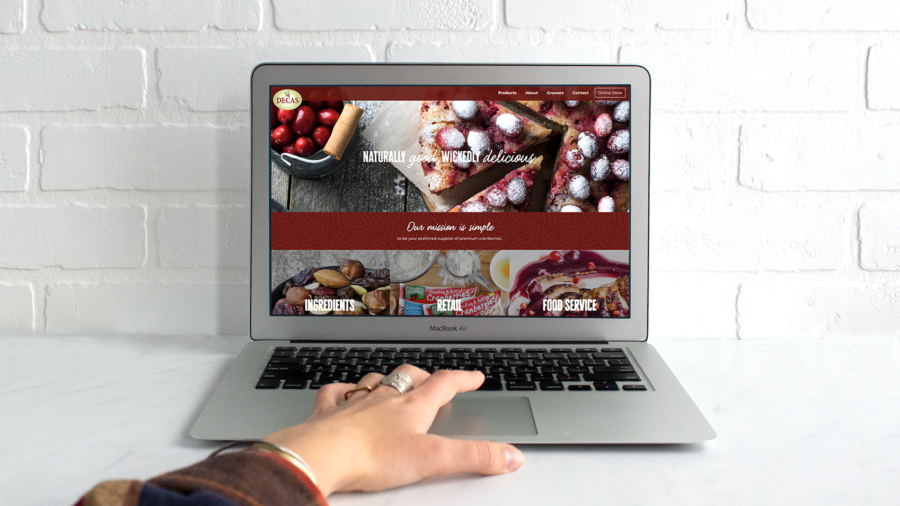 When a cranberry company with 80+ years of farming experience needed two websites, we knew it was our job to produce amazing results for them. Based in Carver, Massachusetts, but selling across the country, our client enjoys a loyal consumer base and a fast-growing international foodservice distribution, so there was a lot of ground to cover. Two audiences, two new sites — here's how we did it.
PARADISE MEADOW – THE B2C SITE
Paradise Meadow is the direct-to-consumer branch of Decas Cranberries, Inc. and needed its own standalone website. The user experience of the previous consumer portal posed a challenge to consumers looking for products, information about the brand's mission, history, or the massive health benefits of those tiny cranberries. Our goal for the Paradise Meadow site was to incorporate an attractive online shopping experience that was easy to navigate, fun, and educational.
What They Needed
A website that could support the current brand but easily integrate with the 2019 launch of the Decas Farms brand.
A clear usability/taxonomy/product structure and the ability to easily add new product lines slated for release in 2019.
A home for the Decas family story and the brand's close relationship with its growers.
The ability to engage with new consumer audiences, particularly millennials, through product-focused recipes and blog posts with helpful, relevant content that could be shared through social media.
How We Did It
Incorporated e-commerce capability using Shopify, with the option to eventually sell through Amazon using Shopify's integration capabilities.
Re-structured their in-house customer service and logistics process in preparation for online sales.
Streamlined the order fulfillment flow by automating the process by which orders are sent to their warehouse.
Set up automatic shipping label generation using the Shippo Shopify app, transferring a manual process that involved printing orders to deliver around the facility into a streamlined electronic process.
DECAS CRANBERRY – THE B2B SITE
Decas Cranberry, the corporate branch of Decas Cranberries, Inc., came to life after the launch of its sister company, Paradise Meadow. The previous site had a wireframe structure that was difficult to navigate. Our challenge was to create a site geared towards brand partnerships and an international retail portal all while keeping it engaging, intuitive, and dynamic. We want every site, regardless of the audience, to be visual and interactive — the challenge is keeping the format sales-driven and straightforward.
What They Needed
Site design that was on-brand, but differentiated from Paradise Meadow.
Content that outlined the Decas brand story and history with a more pointed focus on their growers.
Detailed product specifications for current and potentials partnerships.
An international portal with easy to use, translatable forms.
A grower portal to educate and onboard potential partnerships.
How We Did It
Expanded product pages and broke out product offerings into sections so buyers can find what they need and want quickly.
Differentiated products by ingredients, retail, and food services in order to offer a clear picture of the Decas products that are available to buyers.
Structured the ability to view detailed product information and spec sheets as well as request quotes directly from the product pages.
Created a resource section for growers, with unique logins assigned to each farmer's account.
Looking for a new site to showcase your awesome products? No matter the audience, we've got you covered. Want a closer look at our process and how we can optimize your site to attract your next sale? Drop us a line, we'd love to meet your brand.