Catchfire Creative's Newest Faces: Meet Madeline & Abbey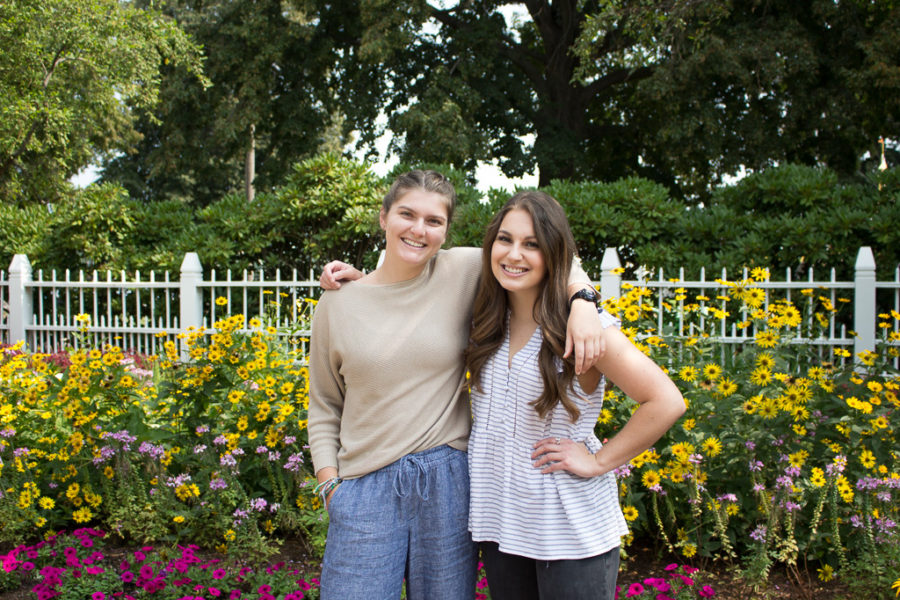 Catchfire Creative is a small (but mighty!) agency, so any new faces that pop up are noticed right away – both by our team and by our clients. For that reason, we wanted to introduce our newest members – content writer Madeline Best and marketing intern Abbey McIntosh.
But enough from us – we'll let you get to know Madeline and Abbey in their own words!
What's your background?
Madeline: I graduated from the University of Missouri this spring with a Bachelor's Degree in Journalism, emphasizing in Strategic Communication. I've always had a deep love for writing and creativity. Having been raised by two Hallmark artists, creative expression was a constant throughout my childhood. Once I hit high school, I found myself working on the school newspaper and preparing to major in Journalism. It wasn't until midway through college that I found my true calling in creative marketing. A few internships with companies ranging from a PR & marketing agency in London to Victoria's Secret PINK, and a handful of blogging experiences later, I found my copywriting home at Catchfire!
Abbey: I am a Senior Communication major and Art minor at the University of New Hampshire, Durham. Art and creativity have been a huge part of my life from a young age. I attended private art lessons in elementary school, went to art camp in the summer (nerdy- I know), and spent a ton of my free time scrapbooking. My experience at University has been heavily influenced by those pieces of my childhood. Fresh academic and professional opportunities at school have inspired a new phase of creativity for me. I have created a website for my artwork, taken up film photography while spending a semester in the U.K., and started a small clothing brand of custom painted, thrifted shirts. I have loved allowing my creativity and academic experiences to merge, and that is what led me to Catchfire!
Why work at a creative agency in NH?
Madeline: Coming all the way from Kansas City, that's a question I get a lot. Growing up with family scattered along the coast of Maine, I was familiar with the Portsmouth area and drawn to working in such a creative and coastal city. Having a waterfront view outside the office certainly beats being landlocked in the prairie! Outside Catchfire's creative environment of photoshoots and brainstorming sessions, there's even more art and culture to be discovered by simply walking out the door!
Abbey: I love New Hampshire. I was born here, attend school here, and spend weekends hiking in the White Mountains. Though travel plays a big role in my life, I always enjoy coming home to this state. The Seacoast area has such a good vibe, and Catchfire fits right in. The team is wicked talented, and I have loved being able to apply the inspiration that I draw from Portsmouth to the creative projects that I work on. With outdoor music festivals, art galleries, and really good coffee shops right around the corner – why would you want to be anywhere else?
Part of your job you'd do even if no one paid you?
Madeline: Brainstorming sessions! There's nothing I love more than sitting around with a group of people and watching a small idea turn into a crazy cool concept. The best content comes from teamwork, so I'm happy to talk social media strategy and creative direction all day long.
Abbey: Influencer and industry trends research is so much fun. Searching for information about the latest app updates, fads in fashion, and leaders in lifestyle blogging is like a big treasure hunt. Best of all, the information that I find is useful for our team and our clients.
Best thing about being at Catchfire so far?
Madeline: The environment. The team is full of creative and down to earth minds, and the office space is wicked cool (this Midwesterner is learning the lingo). I also get to do what I'm passionate about each day at the office, write! Did I mention we have an office dog? I mean, what's not to like?
Abbey: Being able to learn from creative minds that I admire has been invaluable. The team approaches projects with intense creativity and care, and being surrounded by that energy is absolutely the best part about Catchfire.
Which do you prefer – digital or print?
Madeline: I'll always have a soft spot for print advertising, especially retro advertisements, but ultimately digital is the way to go. Digital allows you to be quick, witty, and stay relevant in the fast-paced world of pop culture and social media. As deep in the digital world as I am, I'll still never stop printing my photos, buying magazines, and reading paperbacks.
Abbey: Can I cheat and say that I like both equally? My art student side will always love being able to have a tactile experience with media, but digital has opened up a whole new world of creative possibility and expression. I am the person that develops and prints my film and then scans them onto my computer to mess around with editing.
Creative tool you couldn't live without?
Madeline: I use the online thesaurus nearly every day. Whether you're having writer's block or just don't know how to take something from good to magnificent, the thesaurus is there to elevate the story you're trying to tell – synonyms rock.
Abbey: Believe it or not, Google Images is my go-to tool for inspiration. When I am brainstorming for any kind of art project, it is so nice to type in a few key-words and scroll through a plethora of idea-sparking content.
Which social platform are you most often glued to?
Madeline: Instagram and I have something special. It's by far my most used app, and something I can't seem to keep myself off of throughout the day. I use it for daily creative inspiration and find myself easily getting lost on the "explore" page. And I'll admit, I'm guilty as charged for "doing it for the 'gram."
Abbey: Instagram is certainly my most used social platform. I think my preference towards it goes back to my love of scrapbooking as a kid. I get to curate photos of my life and my art, and I get to see creative content from all over the world.
Millennial pink or a heart of black?
Madeline: If my millennial pink winter coat AND rain jacket mixed with black jeans and boots tells you anything, it's that you can have it all. I'm a big fan of millennial pink mixed with neutrals like black and white.
Abbey: I'm ashamed to admit that I had to look up millennial pink. If that doesn't answer the question, then I don't know what does! A good black t-shirt will always be a wardrobe staple.
Dream client?
Madeline: What I love about Catchfire is that our clients are for the most part consumer packaged goods. I love working with food and health brands, and would definitely like to dive deeper into the beauty and skincare industry. If I had to pick a dream client, I'd pick Burt's Bees – I love their brand message just as much as their line of products.
Abbey: Environmentally conscious, sustainable, quality-minded, and/or health-focused brands are my favorite. Coincidentally, Catchfire shares that attitude! I worked in a Lush cosmetics shop for four years, and they totally fit the aforementioned traits. I would love to have them as a client. In their own words: they are happy people making happy soap! What's not to love about that?
What's the best thing you pass on the way to Catchfire's office?
Madeline: Downtown Portsmouth! I park clear on the other end of town, so I get to enjoy a daily stroll through Market Square. I love passing by people enjoying their morning coffee on patios and all the history Portsmouth has to offer.
Abbey: I take the bus into Portsmouth every day and have about a five-minute walk to Catchfire from the stop in Market Square. Every day I pass by at least one person out watering flowers or tending to their garden, and it is the best part of my commute!
Interested in being the next face of Catchfire? Check out our fall 2018 internship opportunities here!