Graphic Design Trends We Expect in 2021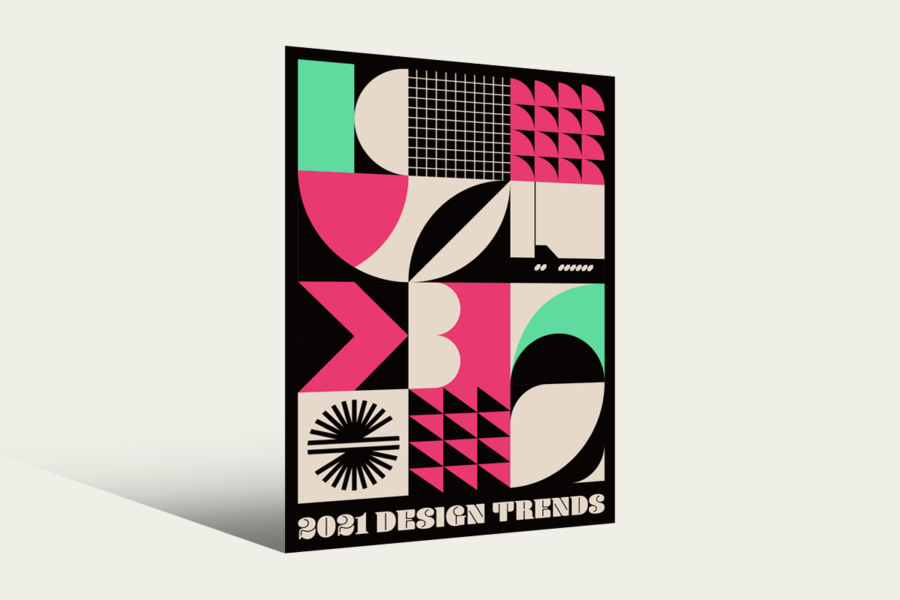 After experiencing a year unlike any other, we're setting our sights on what's to come in 2021. Never before has online communication taken on such a critical role, with brands and marketers alike rapidly rethinking content styles to avoid production pitfalls related to COVID-19. With increasing reliability on graphic design, we're forecasting the design trends we expect to see throughout the upcoming year.
3D Design
While 3D isn't exactly new, the rise of augmented and virtual reality has created increased excitement in UI web design. Designers are incorporating photos or illustrations with 3D elements and animation for added movement and texture across the screen. Beyond artistic merit, this design strategy works to engage viewers for extended periods—thus increasing average time on site.
Natural & Organic
Designs that mimic nature with a mixture of soft and earthy tones alongside free-flowing lines are growing in prevalence. This trend fits well with the ongoing theme of minimalism and works to declutter a brand's image to emphasize its roots and product values. With muted color palettes linked to feelings of calmness and security, expect to see more visual tranquility at a time when people need it the most.
Geometric Shapes
Diverse shapes and contrasting colors produce imaginative combinations—especially when paired with 3D design and animation. Whether abstract or straightforward in form, geometric shapes work to create contrast or bring clarity to hard to digest information. Whether used in social feeds or throughout webpages, geometric shapes help create a cohesive look across branding.
Monochrome & Duotone
A characteristic of minimalism, working with a limited color palette is nothing new to modern design. With utilitarian packaging on the rise for CPG brands, designers are leaning into monochrome and duotone palettes to simplify visuals for recognizable branding across shopping and social platforms.
Illustrations
Branded icons, cartoons and illustrated designs are increasing in popularity as brands seek an alternative to photography and video production. Illustrations communicate messaging in less space than words, making it a strong strategy for infographics, animations and other visual content. These visuals create a recognizable style for consumers to spot and easily associate with the brand.
Nostalgia
Vintage aesthetics and kitchy designs reminiscent of the '70s and '90s are working to disrupt modern design rules for the sake of nostalgia. Weaving together retro visuals with current brand missions, designers are focused on appealing to Millennials and Gen Z online through the use of old school effects, colors and stylizing.
While we can merely predict what is to come, we know that graphic design is experiencing unprecedented growth amid unpredictable times. Whether your brand is looking for innovative packaging to stand out on the shelf or something new to spruce up the social feed, we're here to guide you on increasing conversions with the right graphic design for your brand.