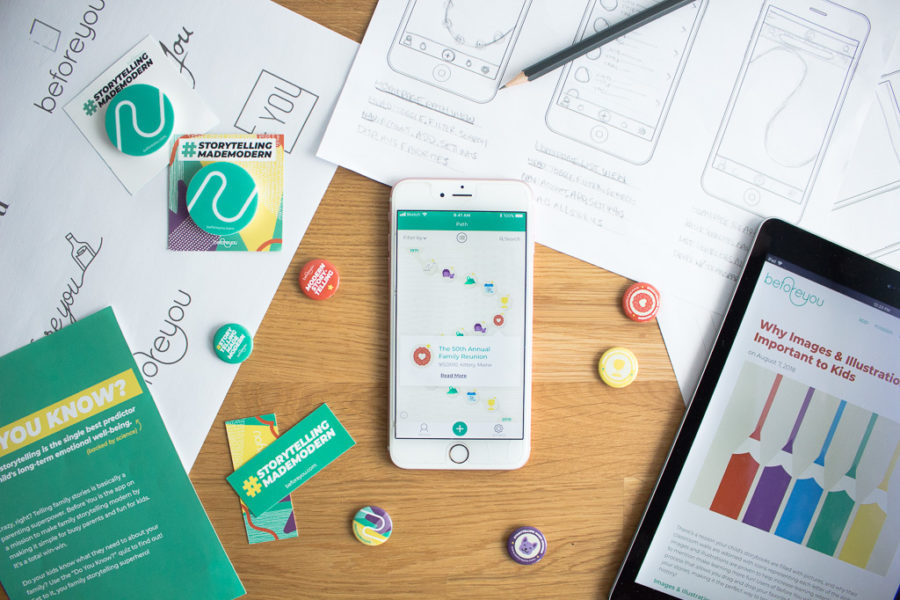 This past spring, we entered uncharted waters and dove into something we've never done before. We did concept development, design, and go-to-market strategy for an app.
Brewing Up an Idea
Marty McKenna, the co-founder of successful coffee shop franchise Aroma Joe's, came to Catchfire with a challenge: find a way to help families capture, safeguard, and share their memories. After a detailed market analysis, multiple rounds of focus groups, and even a trip back to the drawing board – the concept for Before You was born.
The Science Behind Storytelling
Based on a body of research that's been steadily growing since the 1980s, family storytelling has been shown to be one of the single best indicators of a child's future happiness and emotional well-being. Before You is designed to make it easy for busy parents to capture the memorable moments in real time and preserve past memories for future generations to enjoy. For young children learning about their family, stories with rich details, such as a recording of Grandma's voice or the anecdotal details that give a story context, help solidify the memories in their developing minds, which builds a foundation of identity over time.
The Gap in the Market
We discovered that while the majority of people have a preferred photo storage app or service and also post single photos to social media platforms, there was no existing platform designed to tell a more comprehensive story. Before You was designed to be appealing to busy parents and fun for kids. By using color and illustration theory, a color palette and illustrative style were designed to capture attention, engage both audiences, and create memorable associations with story elements and categories. The use of a Candyland-esque illustrated path helps to contextualize time for children who do not yet understand the concept of a more straightforward timeline, so it's easier for parents to help kids understand how long ago their parents first met in relation to when a sibling was born.
From Big Idea to Real-World Launch
As an innovation in modern family storytelling, the concept, brand identity, positioning, and go-to-market strategy for Before You was created by Catchfire from scratch. With the design and wireframes mapped out, the app was brought to life through a collaboration with Mad*Pow, who helped to develop the technology behind the app and make our vision a reality. We could not be more proud of the app, but the real test was our first major activation – a sponsor booth at BlogHer Creators Summit. Would the working moms we'd defined as our primary target audience respond to the app? We were blown away by how strongly the bloggers, influencers, and creatives we met connected with the premise behind the app, design, and features.
As an agency, we know that projects like Before You – with an enthusiastic and supportive client, strong collaborative partners, and a purpose that turns our own team into passionate brand ambassadors – are few and far between.
Ready to share your stories? Download Before You to start experiencing family storytelling made modern!