4th & Heart Web Design + Development
Working to convince the world to try a healthier and lactose-free alternative to butter, 4th & Heart incorporates chef-inspired flavors and ancient wisdom in their line of versatile ghee products. A centuries-old superfood, ghee can maintain its molecular integrity at extremely high temperatures while also supporting weight loss, improving digestion and reducing inflammation. 4th & Heart is giving ghee the comeback story it deserves by introducing the shelf-stable product to a new generation of health-conscious households.
What We Did
brand strategy

web design

web development

web content

graphic design
The Problem
4th & Heart was looking for an updated website to better accommodate their loyal customer base of ghee-enthusiasts. They partnered with Catchfire to create a responsive website that was easy to navigate and reflected the educational pillar behind their brand.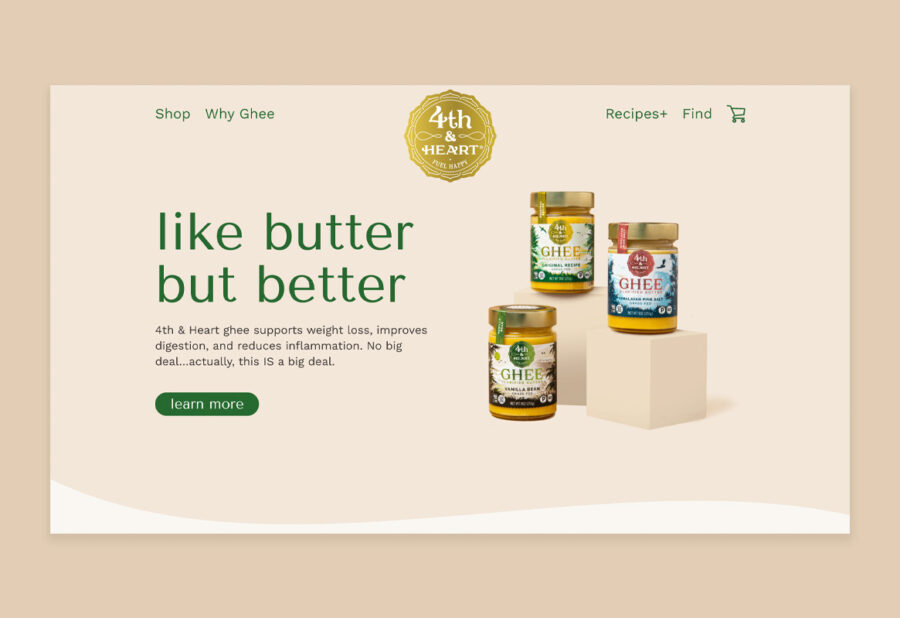 Our mission was to highlight the health benefits and ingredients behind the brand's line of products through a combination of website design and development. Our strategy included custom designed pages, bringing ghee's ancient beginnings into the modern era through the use of bold and contemporary design elements.
Our UX strategy focused on enabling 4th & Heart visitors to browse efficiently across both desktop and mobile, making information about the product's history, variations and uses easily accessible to both returning and potential customers. By embracing a simplistic site map, visitors can easily navigate to find the perfect product to fit their cooking needs.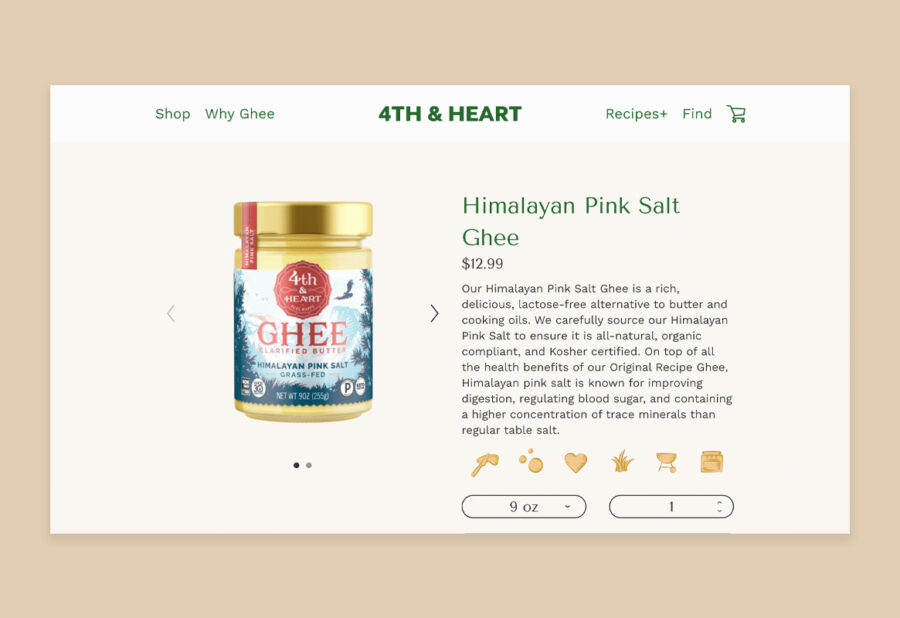 Our design process included clean and simple product imagery and custom icons to easily share and translate educational information to the visitor. Having created a new navigation system, we also worked to organize 4th & Heart's website content by blending the brand's original words with updated copy sourced from their most recent brand guide for refreshed reading.
With a growing recipe index, we created an intuitive editing experience that allows 4th & Heart to update their blog page with new ideas as their community's creativity continues to flourish. This process, alongside custom designed pages, creates a template for success as 4th & Heart continues to expand its digital reach and customer acquisition.