Our Agency Holiday Gift Guide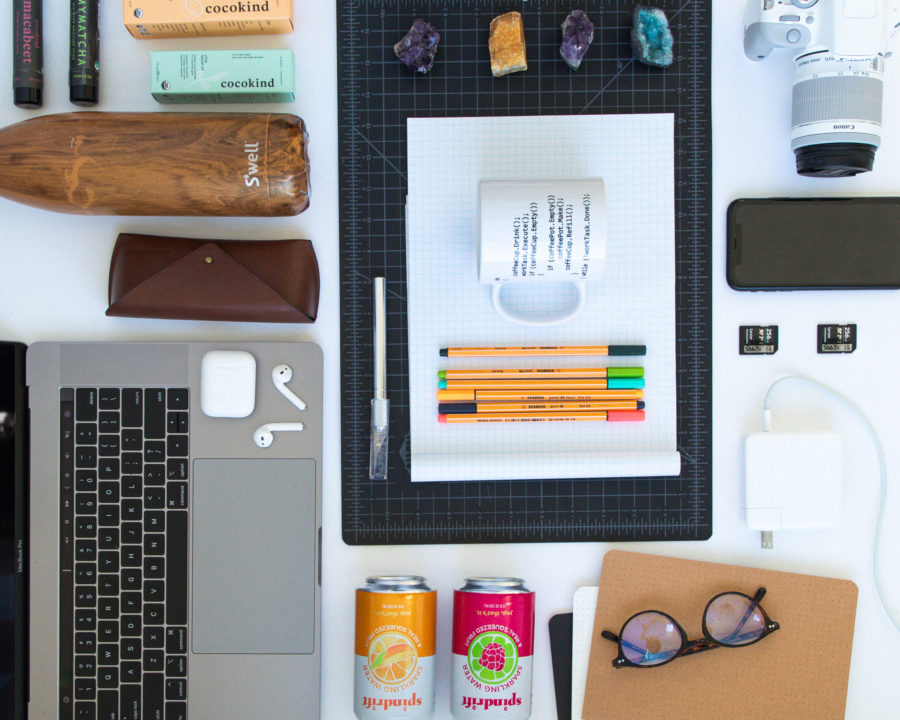 Searching for a gift as savvy as the marketing-centric mind on your list this holiday season? Whether you're looking for an item to inspire the next big idea or help cross off your loved one's to-dos, the Catchfire team is here to spill what we couldn't live without while at our desks.
Airpods
Cut the cord and free your favorite busy bee from the tie to their electronics. Between client calls, inspiration-filled podcasts and tunes to tune out the world, it's easy to see why these wireless headphones make a great gift for the multitasking marketer.
Blue Light Glasses
Eight hours of screen time will certainly leave eyes feeling strained, sore and even blurred after a day's work. Banish blue light from the daily routine of those in the digital sphere with a pair of blue light blocking glasses—like an affordable pair from EyeBuyDirect.
S'well Bottle
Promote a plastic-free lifestyle with a reusable S'well. Ideal for toting between client meetings and staying hydrated on-the-go, these insulated stainless steel bottles work to keep drinks cold for 24 hours and hot for 12. Reaching our daily H2O quota is hard enough, try opting for a bottle in your recipient's favorite shade or pattern to promote a healthy habit.
Quirky Mug
For every agency role and personality, there's a mug to match. It's no secret agencies run on coffee, especially as deadlines loom. While a shelf of community mugs exists within our kitchen, we tend to gravitate towards our own individual or personalized cups to keep us caffeinated. Whether classic or comedic, like our developer's HTML mug, you're sure to create a desk staple.
Colored Pens
To-do lists, memos and notebooks galore. In our digital setting, you'd be surprised to learn that many of us keep tangible to-do lists on our desks. Help your planner keep things organized with a set of colored pens to color-code their way towards client success.
Desk Crystals
Give the gift of good vibes to inspire the manager in your life to stay centered at their desk with a set of crystals to promote relaxation, communication and productivity. We recommend a clear quartz to keep at the top of a to-do list for mental focus and chrysocolla to kick-start a new account endeavor.
Graph Paper
From drafting logo concepts to UX design, a stack of graph paper is a designer's best friend in the non-digital world. Provide the materials needed for a fresh year of brainstorming sessions to the creative thinker on your list to jumpstart fresh client creations.
Spotify Premium
For those of us who spend a good portion of the day with our headphones in racking up thousands of Spotify minutes each year, we wouldn't be where we are without our Premium account. Eliminate ads and improve the listening experience for the creative who craves a bit of stimulating sound to power through projects.
Seltzer
Some days tap water doesn't cut it. Satisfy a sweet tooth with a case of Spindrift, the seltzer of choice that's always stocked within our agency fridge. We'd be lying if we said we didn't fall for the fruit-centric branding at first, but the freshly squeezed flavors have kept us coming back time and time again.
Moisturizer
Between the months of November and March, we're stuck suffering from the wrath of cruel winter weather. A combination of windburn on the way into work and dry air courtesy of the heater leaves our skin drier than Sahara sand. Help your office dweller combat dry lips and cracking hands with a stocking full of moisturizers and balms to stay hydrated.
Your recipient is sure to appreciate the gift of workspace success as they head back to their desk in the New Year—happy holidays from our team to yours!