Upgrading Your Brand's Amazon Presence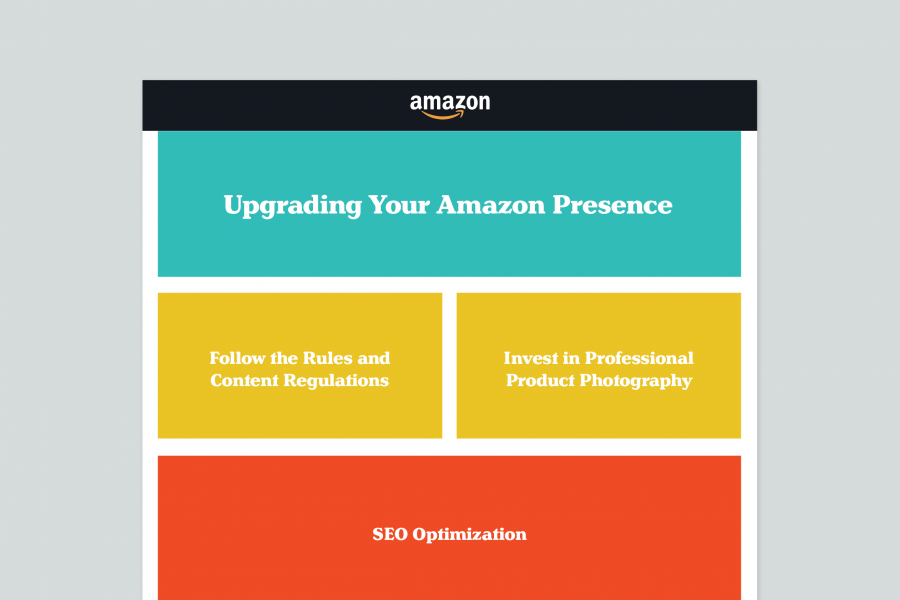 With a reported 148.6 million Amazon Prime members in the United States, an increasing number of brands are diversifying their revenue streams to include Amazon as they work to leverage the retailer's expansive customer base and reach. Driving over 40% of product searches compared to traditional search engines, Amazon has positioned itself as the place for CPG brands to be discovered as the platform continues to grow its online customer base. We're sharing how utilizing custom media and content can help boost your brand's presence on Amazon to better stand apart from the ever-increasing competition.
Amazon Brand Store
Available to brands free of charge, creating an Amazon Brand Store provides sellers an opportunity to create a curated shopping experience for potential customers. With the ability to showcase their brand's story and full range of products, this storefront can be broken into multiple category pages similar to a brand's website. Alongside product listings, you can also opt to display multimedia including video, written content and lifestyle imagery to showcase certain products or promote key features to help customers make informed purchasing decisions and ultimately boost conversion rates.
Rules & Content Regulations
Whether you're looking to improve your product listings with updated images, refreshed product descriptions or are looking to leverage the benefits of A+ Content, it's essential to adhere to Amazon's strict regulations and requirements when uploading product information. Before being published, content must first pass inspection by Amazon for approval. During this review process, Amazon is looking to confirm their guidelines are in order and that your listings contain no misleading statements or claims.
We work internally and with trusted partners to thoroughly proof all content so your brand can have the peace of mind that your pages align with Amazon's guidelines. By partnering with a digital marketing agency like us, you can be sure that all regulations are taken into account for an optimized marketing strategy.
Invest in Professional Imagery
No matter the quality and craftsmanship behind your products, if your imagery selection lacks clean composition and variety, potential customers will not be motivated to purchase. While your primary image should be product-focused, diversifying your listing with additional photos and infographics that showcase benefits and features can provide helpful information for potential buyers to better imagine how your product could enrich their lives.
By investing in our professional design and photography services, you can amplify your Amazon storefront with visual variety and infographics like we've recently created for Heavenly Hounds and Zeia Foods. Amazon shoppers crave high-quality imagery to help navigate their customer journey, and we're able to identify and execute the right creative to best suit your brand's goals.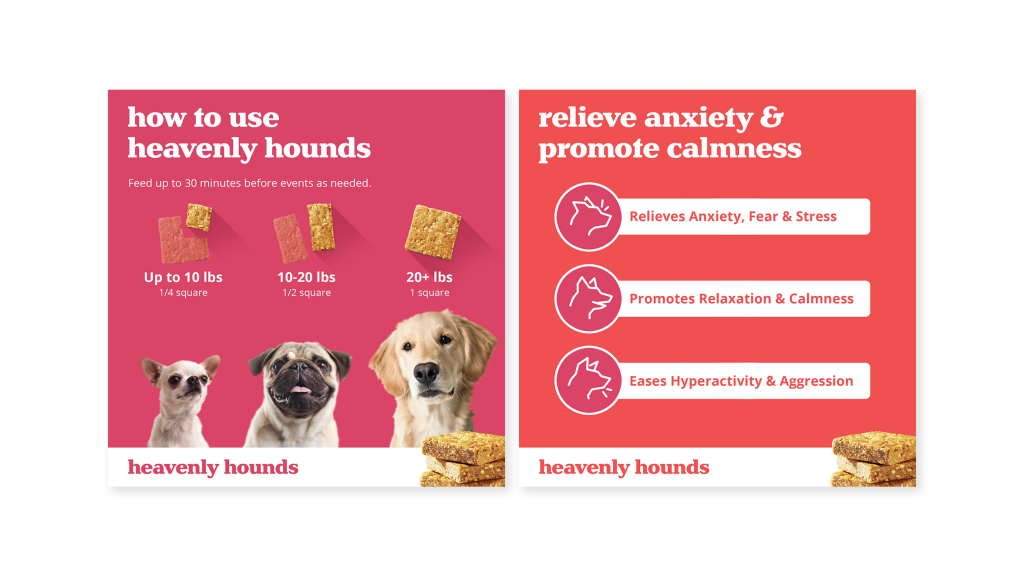 A feature exclusive to registered brand owners, utilizing A+ Content allows brands to incorporate enhanced media like product images, graphic banners, featured copy, videos and comparison charts into their listings to better communicate product value while providing detailed explanations that help potential customers become informed buyers.
Graphic content engages consumers by providing an enhanced understanding of the product's key benefits and value. Usage of text, icons and certifications on images provides potential customers who are quick to skim over product pages with bite-sized why-to-buys. A+ Content upgrades your product page with a professional touch that speaks to the value behind the brand while conveying trust to the consumer.
By making it easier for shoppers to see why they need your product in their cart, you're setting your brand up for better success at converting new customers. When upgrading A+ Content for Heavenly Hounds, we created a series of graphic images incorporating product shots, bright colors and modern typography to convey the product's usage and all-natural ingredients list while attracting eyes through engaging and bold designs.
SEO Optimization
While you're busy working on upgrading your storefront, don't forget the importance of SEO for driving your listings towards the top of Amazon's search results. Optimizing your product listings with descriptive titles utilizing keywords can best stand up against the Amazon algorithm. Amazon filters listings to provide relevant search results for each keyword. To ensure your product ranks highly, you must optimize listings for both the algorithm and the potential buyers' eyes.
According to Helium10, product titles should be between 150-200 characters and include three to five exact keyword phrases. While this is a prime example of front-facing keywords, which are visible to the buyer, we also work to utilize back-end keywords like language translations and misspellings that are searchable in Amazon's database yet hidden to help our client's boost their rankings.
As an increasing number of customers depend on home delivery for their necessities, Amazon's landscape will only continue to grow increasingly saturated with competing CPG. Brands need to strategize how they'll convey their benefits and differentiators to set themselves apart and ultimately grow their online customer base. Whether you're looking for updated imagery, SEO guidance or just getting started on your Amazon journey, we're here to help your brand succeed with an upgraded retail presence.