How CPG Brands Are Strategizing to Sustain Growth in 2021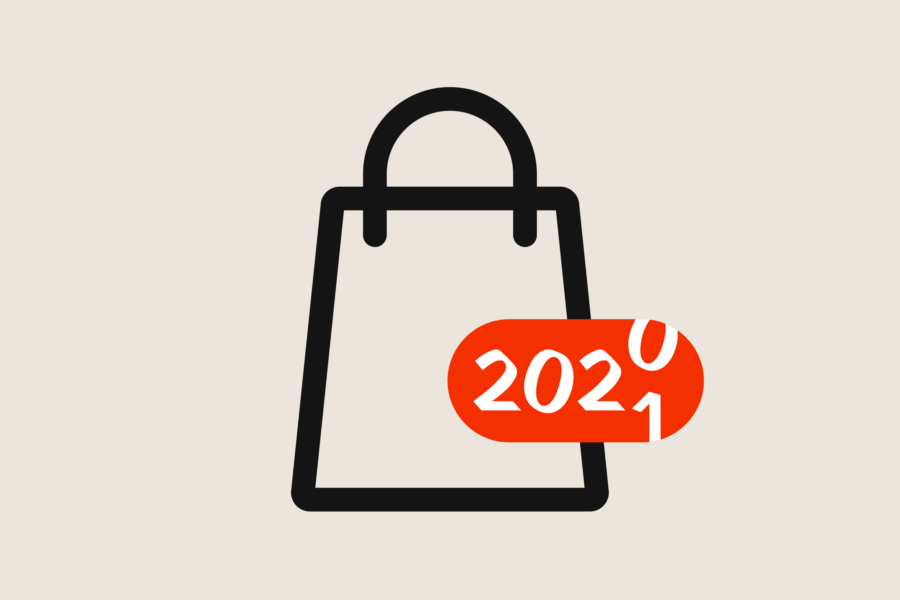 Editor's note: This article was originally published on December 18th, 2020. As of June 3rd, 2021, it has been updated with an additional section to reflect current insights and data.
While we all breathe a collective sigh of relief for making it through the year of "unprecedented times," those within the CPG industry can't help but wonder what's waiting just around the bend. As we look back at how 2020 brought rapid change to the retail environment, we're also looking to foresee how CPG brands will be strategizing to maintain their newfound consumer market as pandemic sales begin to normalize in the coming year. We've gathered the strategies and trends we're watching as brands work to stay nimble and maintain consumer loyalty in the turbulence of 2021.
Smaller Brands Have a Fighting Chance
As uncertainty abounds, it's yet to be known whether evolving consumer behaviors formed during the pandemic will last through the recovery and beyond. What we do know is that consumers have developed a greater trust in obtaining their essentials through services like online ordering—with 85% of shoppers significantly increasing curbside pickup orders compared to pre-COVID-19 rates.
This shift towards online shopping has created a silver lining for smaller CPG brands, with 36% of consumers willing to try a new brand product according to McKinsey. Of those testing new brand products, 73% intend to continue incorporating them into their routine. Brands that were once unknown before the pandemic or only available online are experiencing rapid growth as they dig deeper into their online channel.
Home Cooking & Drinking
Cooking has risen in popularity as many feel inspired to create affordable meals from the safety of home. While it's not yet known if sourdough starter has already hit its peak, food and beverage brands are rapidly considering what's next. "We expect a need for at-home, easy mealtime solutions and brands will have to provide inspiring new products to combat cook-at-home fatigue," said Linda Lee, Chief Marketing Officer of Campbell's Meals and Beverages.
This trend has also crossed into the beverage industry with roughly 10% of drinking occasions taking place through social events online. Manufacturers like Pernod Ricard USA expect to see continued growth in ready-to-drink formats such as canned cocktails as at-home bartending cements itself in place for the winter season.
Grocery Shopping at Home
Consumers wasted no time in altering their shopping behaviors at the start of the pandemic. According to Business Insider Intelligence, by early April, digital grocery shopping had already seen a 40% increase in new users. In just 30 days, PepsiCo rolled out both Snacks.com and PantryShop.com as two D2C channels to meet the rising trend in which snacking is replacing meals for 46% of adults between the age of 18-54 while at home.
Now that consumers have had a taste of this convenience, we're left to question if the population at large will ever revert to standard aisle shopping. "The COVID-19 pandemic has changed how consumers shop," said Zehra Raza, Senior Marketing Manager at Hershey Canada. "Companies understand that consumer-decision journeys will now include more digital touch points, and shoppers will expect companies to have a consistent presence, both online and offline."
Utilizing UGC & Influencer Content
As consumers avoid in-store product testers, brands within the beauty industry have been pushing AR and VR try-on experiences and partnerships with influencers to support digital sales, according to Brand Innovators. "The consumer product goods industry has seen unprecedented explosion in e-commerce sales and need for content to support new at-home consumer behaviors," said Melissa Hughes, Global Marketing Director at L'Oreal. "In 2021, you can expect teams will be poised for agility when it comes to content development focused on continued engagement of newly gained 'COVID-19' consumers."
UGC and influencers in social and commercial advertising have created an authentic connection between brand and consumer as real at-home product usage inspires consumers to purchase. With highly engaged followings, brands are expected to continue amplifying micro-influencers to reach new audiences in an impactful way.
An Increased Need for Digital Marketing
So, what does all this mean for smaller CPG brands? More competition is on the way. As consumers continue to order online, digital advertising channels increase in importance for CPG marketers of all sizes. According to estimates by eMarketer, digital ad spend is expected to increase by 5.2% to $19.40 billion in 2020 and will reach $22.58 in 2021. E-commerce brands who've grown their conversion rates due to an increased willingness to try something new must now strategize how to maintain their consumer base and market share once shopping behaviors begin to shift back in a post-vaccine world.
In the early days of the pandemic, brands prioritized product availability and conscious messaging across platforms as a cloud of uncertainty hung in the air. After nearly nine months of pivots and innovative thinking, retailers have come out on the other side with new methods for increasing conversions while maintaining their consumers' needs. While we wait in limbo between the winter season and the promise of readily available vaccines, CPG brands that are flourishing in the e-commerce realm should be considering how they'll evolve to keep their footing once the dust settles and sales begin to normalize.
As we enter 2021, consumers will continue to adjust their lifestyles as health and finance-related resolutions emerge. Whether or not these resolutions stick, there is no doubt that fundamental shifts have occurred in their consumer journey. Interested in how Catchfire can help guide your CPG brand in the direction of sustained growth? We're here to assist you in utilizing these digital marketing insights to grow your e-commerce presence while maintaining your market share.
June 2021: How Are Retailers Adjusting to a Post-COVID World?
Here we are six months later, with vaccines readily available, mask mandates lifting and leisure travel returning just in time for the start of summer vacation. Now that people are starting to feel comfortable resuming life "in-person," we're reflecting on the first half of 2021 and how CPG brands are working to maintain their newfound consumer market and loyalty in year two of the pandemic.
So, can retailers and brands handle what it will take to succeed in a post-pandemic retail environment? According to Shopify, over 150 million new shoppers migrated online in the past year, with 79% of consumers indicating they plan to continue shopping online. This massive shift towards e-commerce revenue has accelerated the need for an omnichannel business model, where digital and in-store services exist in tandem.
While consumers quickly adopted a preference for online ordering, willingness to resume in-person shopping will continue to rise as vaccination rates increase. According to Attest, a mixture of Gen Z and Boomers are leading the return back to stores. Despite being the most digitally native demographic, there is only an 11% net increase in online shopping activity for those aged 18-25 compared to a 32% net increase for Millennials aged 26-40 who are more committed to maintaining their online shopping habits. On the other hand, Boomers aged 56-66 are the only demographic committed to reducing their online shopping activity with a net decrease of 6%. Brands that quickly pivoted to an omnichannel strategy at the start of the pandemic are in a primed position to layer their new digital revenue streams with their pre-pandemic models.
Along with shopping habits, consumers have made lifestyle changes they'll seek to continue even after the pandemic subsides. Structural changes at home like renovated workspaces and upgraded backyards for entertaining have forever shifted how consumers view their living space. This "homebody economy" has shifted consumer spending away from out-of-home entertainment to trends like at-home bartending and dinner parties that focus on reconnecting with friends and family in safe and private environments. With 30% of consumers still planning to splurge on items for the home after the pandemic subsides, the CPG industry will likely continue producing products to upgrade at-home experiences.
COVID-19 ushered in an unforeseen shift to brand loyalty, which is still unfolding in year two of the pandemic as consumers continue sampling new brands and digital shopping experiences. With this consumer willingness holding steady, smaller brands have successfully grown through online sales and brand awareness-focused strategies utilizing UGC and influencer content. While retail may never fully revert to a pre-pandemic state, brands have heightened awareness of the importance of an omnichannel presence to meet customer needs moving forward.